Delta-8 THC Lemonade is a refreshing lemonade infused with a gentle dose of Delta-8 THC for a unique, controlled experience. Enjoy the classic flavor with quick effects, all in a convenient, discreet package.
Key Features :
Refreshing Lemonade Flavor
Precise Dosing
Onset and Duration
Vegan and Natural Ingredients
Convenient and Discreet
Regular price
Sale price
$16.00 USD
Unit price
per
Sale
Sold out
View full details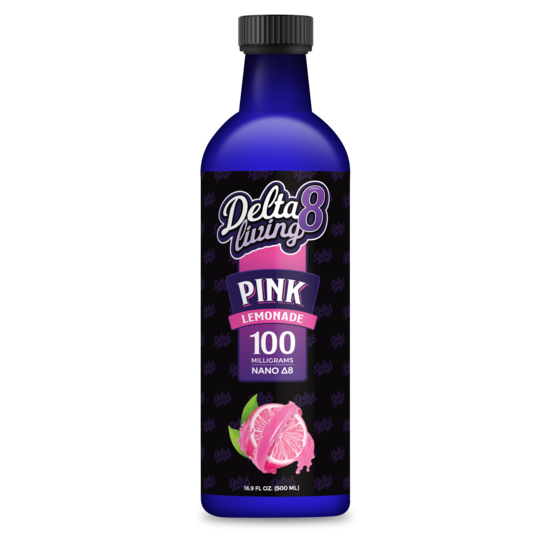 No Pesticides

Lab Tested

NON GMO

GMP Certified

FREE Shipping
Refreshment with a Twist
Indulge in refreshing Delta-8 Living Lemonades, available in Mango Lemonade and Pink Lemonade flavors. These 100 mg CBD energy drinks are perfect for mixing into cocktails or enjoying on their own. Cheers to higher living!
Experience Delta-8 THC Lemonade
Delta-8 THC Lemonade by Green Herbal Care brings you the ultimate refreshment with a twist. Indulge in the fruity goodness of Mango Lemonade or Pink Lemonade while enjoying the benefits of Delta 8 THC.
Enhanced Bioavailability
Each bottle contains 100 mg of Delta-8 THC, expertly crafted using Delta-8 Living's Proprietary Water Soluble Technology. This innovative approach enhances bioavailability, ensuring faster relief. Shake well, serve cold, and let the flavors dance on your palate.
Consume Responsibly
Please consume responsibly, as Delta 8 THC products are psychoactive and may result in a positive drug test. Not suitable for pregnant or breastfeeding individuals. Keep out of reach of children.
Versatile Enjoyment
Enjoy Delta-8 THC Lemonade as a standalone beverage, or get creative by incorporating it into your favorite cocktails and mocktails. Sip it on the rocks and savor the refreshing taste, while experiencing the uplifting effects of Delta-8 THC.
Multiple Servings
Each 16.9 oz container provides approximately 10 servings, with a typical serving containing 10 mg of Delta-8 THC. Remember to refrigerate after opening to maintain the product's freshness.
Proudly Made in the USA
Delta-8 Living Lemonade is proudly manufactured in the USA and complies with the 2018 Farm Bill. Discover a new way to elevate your drinking experience with Delta-8 THC Lemonade.