Elevate your relaxation game with our Elite Infused Gummies! Bursting with juicy mango flavor, each gummy holds a solid 50mg of pure Delta-8. With 1000mg of Delta-8 in every 20-piece jar, these USA-grown hemp goodies are your ticket to a blissful buzz. Go ahead, treat yourself to the elite experience.
Key Features :
These delectable mango & Strawberry flavored gummies come in a pack of 20 and are made with pectin instead of gelatin.
Each gummy piece contains a pure and potent dose of 50mg of Delta 8.
These gummies are vegan-friendly and free of gelatin.
These gummies are proudly made in the USA.
They undergo thorough lab testing to ensure their purity and quality.
Regular price
Sale price
$55.00 USD
Unit price
per
Sale
Sold out
Customers who purchased this item also bought -
View full details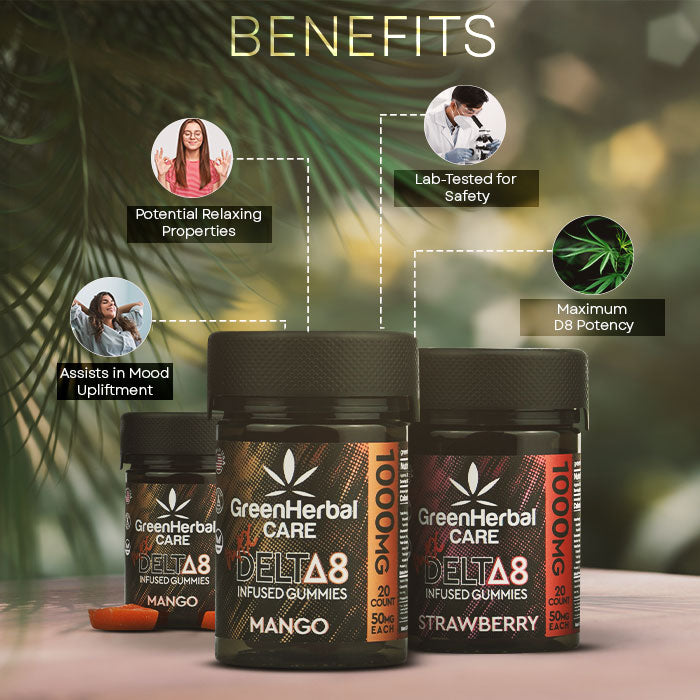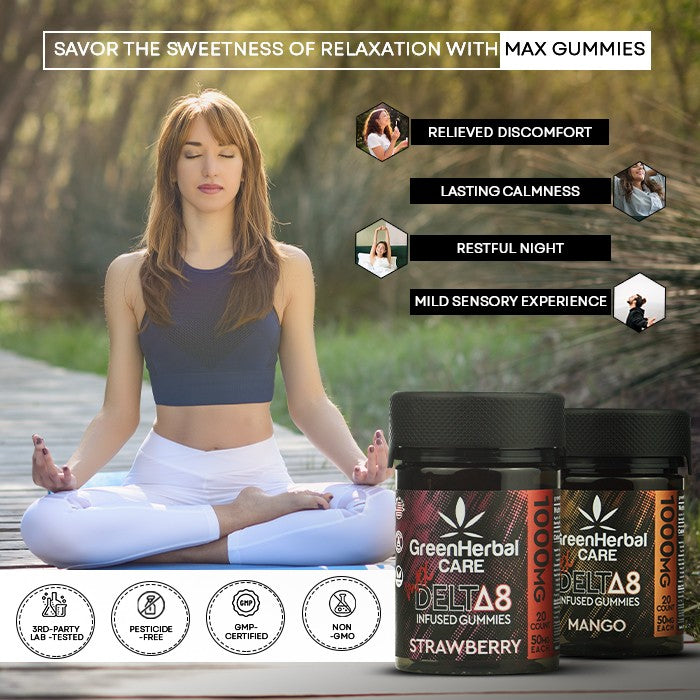 No Pesticides

Lab Tested

NON GMO

GMP Certified

FREE Shipping
Introducing our GHC Delta-8 THC Max Gummies, where euphoria meets gourmet taste! Are you in pursuit of the perfect unwind? Look no further than our latest creation - the Elite Infused Gummies. We've poured all our expertise into crafting a gummy that's not only a taste sensation but also packs a delightful punch.
Flavorful Bliss:
These gummies are not your average. Infused with the seductive sweetness of mango, each piece is a journey for your taste buds. But there's more to love - a full 50mg of Delta 8 THC in each gummy, giving you a consistent and enjoyable experience every time.
Total Delta-8 Immersion:
Each jar houses 20 of these tantalizing treats, bringing a total of 1000mg Delta-8 THC to the table. That's premium hemp-derived goodness all wrapped up in a convenient jar.
Crafted for Your Pleasure:
We've sourced our hemp from trusted American growers, ensuring a top-notch product that's as safe as it is satisfying. Our gummies are a testament to quality and consistency, designed to provide you with a relaxation experience like no other.
A Friendly Reminder:
For your safety and satisfaction, we recommend enjoying one gummy at a time. Remember, patience is key! And while these gummies are a delightful indulgence, it's crucial not to exceed two pieces within six hours.
Embrace the Chill:
Our Elite Infused Gummies offer you a chance to unwind and destress, but they're not meant for kiddos. Keep these out of reach of children, as they could be a choking hazard.
Your Wellness, Your Responsibility:
As with any wellness product, consult your healthcare provider if you're pregnant, nursing, or have any health concerns. If hemp, Delta-8, or related products aren't your cup of tea, it's best to steer clear. Also, hold off on operating heavy machinery post-indulgence.
Optimal Goodness:
To maintain their freshness and potency, store these gummies in a cool, dry place. And remember, the law frowns upon selling this product to minors. Stay responsible, and let the good times roll.
Disclaimer:
Please be aware that these gummies should be kept out of reach of children, as they can be a choking hazard. If you are pregnant, nursing, or have any medical concerns, please consult with your healthcare provider before taking this product. It is important to avoid operating heavy machinery after consumption. If you are allergic to hemp, Delta-8, or related products, please do not take this product.

For optimal quality, store these gummies in a cool and dry environment. The sale of this product to minors is prohibited by law.
Note:
To ensure product integrity during transit, we recommend selecting the 2-day shipping option and including an ice pack when finalizing your order. Please note that we cannot assume liability for items arriving in a melted state as a result of heat exposure during the shipping process.