Enjoy Delta-8, Pure CBD, and More...
Enjoy Delta-8, Pure CBD, and more from Chicago's most dependable hemp brand. The goods we offer are trustworthy.
We have committed to offering you the greatest experience after years in the business helped us grow into the premium brand we are today. We have broadened our distribution as a rapidly expanding CBD store in Chicago to make our product line available to every hemp enthusiast. We produce and offer an extensive selection of high-quality hemp-derived goods. Each batch has undergone pesticide, non-GMO, and toxin testing.
Shop from Featured Categories
Not sure what you need? Take a look at the highlighted categories.
New Products
The products in our complete portfolio areexcellent. However, some are truly remarkable! 
WhatMakes Us the Best CBD Vendors in Chicago?
We will let you in on a little secret. Oursuccess is largely attributed to factors other than only our high-calibergoods.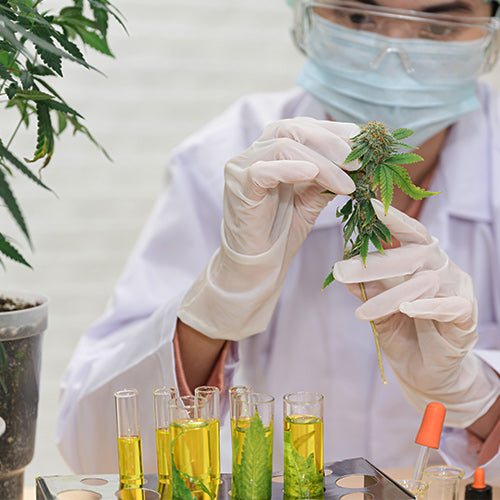 Lab-Tested
Before incorporating hemp extracts into our products, we test them. Each batch undergoes rigorous testing at a lab that is independent and accredited. In order to prevent any effects on the caliber of our products, we identify potential issues. To guarantee that our customers receive only the best, certified items they can rely on, we strictly adhere to safety rules and employ the highest industry standards.
Make use of high-end products to improve your daily tasks. We provide reliable, unbiased information on the features and benefits for your convenience, making it simple for you to pick the ideal product, be it CBD or Delta-8.
Pesticide Free
Organic, pesticide-free food is without a doubt the best option. However, where can you buy organic goods? The answer is Green Herbal Care. The fact that we assist you in avoiding dangerous exposure to your body is one of the main arguments in favor of choosing us. Chemical pesticides are risky and extremely destructive substances. All GHC products are pesticide-free out of care for your health.
Enjoy healthy ingredients like omega-3 and omega-6 fatty acids instead. Your immune system will be strengthened and your cells will be protected from free radicals if you consume more antioxidants.
USA Made
To assure the highest quality, we exclusively utilize freshly picked, regionally grown herbs at Green Herbal Care. We don't bring in any products or ingredients from other countries. Everything in our CBD store in Chicago tastes better because it is fresh. Our experts deliver the best goods while guaranteeing high nutritional value. Our goods are nutrient- and vitamin-rich, which is good for your general health.
We have always tackled issues from various angles. We are concerned for both the environment and you. Natural hemp extracts produced in America cut down on carbon emissions and travel time. As a result, waste and packing are reduced.
Product Variety
Whether you place an order online or visit one of our stores, you can choose from a variety of alluring products in our collection. We offer tinctures, gummies, pre-rolls, vape cartridges, muscle and joint lotion, and flowers among other things. We provide a variety of products, ranging from happy Delta-9 THC to non-psychoactive CBD.
Additionally, our fees are affordable in light of the services we offer. You shouldn't be concerned because none of our goods include any byproducts from animals. Our products are not genetically altered.
Our Stores
Green Herbal Care goes above and above to provide you with the finest products. We want to provide you with the advantages of cannabis that will help you form healthy habits. Expert in-store attendees guide you through every step, providing you with objective knowledge for better product selection.
We adhere to the strictest manufacturing rules, use cutting-edge facilities for quality control, and are GMO-certified. Every order comes with a fulfillment guarantee.
Our Stores
Experience our high-quality cannabinoid products in person at one of our physical locations
Popular Products
Shop Your Next Go-To Product and Elevate Your Experience with our Cannabinoid Offerings.