Enjoy Pure CBD, Delta-8, and More…
Dallas' most reliable hemp brand. We offer products you can trust.
Years in the industry made us the premium brand we are today, and we have committed ourselves to giving you the best experience. As a fast-growing Dallas hemp company, we have expanded our reach to bring our product assortment to every hemp lover in Dallas. We manufacture and sell a wide variety of quality hemp-derived products. Every batch is toxin-free, pesticide-tested, and non-GMO.
Shop from Featured Categories
Not sure what you want? Check out our featured categories.
New Products
All our products are top-notch. But some are just fantastic!
What Makes Us Dallas' Best CBD Store in Dallas?
Want to know a little secret? Our popularity comes from more than just quality products.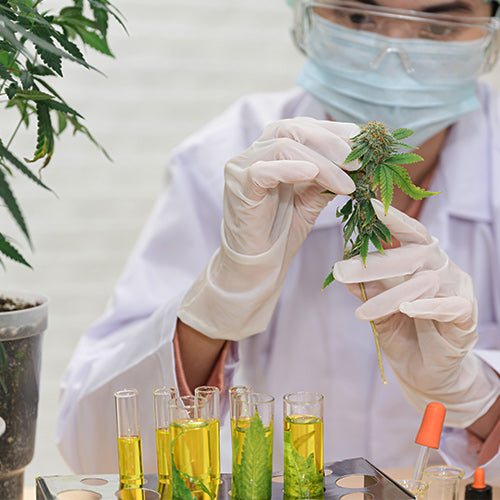 Lab Tested
We test the hemp extracts before infusing them into our products. Every batch undergoes rigorous testing in an accredited and independent laboratory. We identify potential problems to eliminate any probable adverse effects on our product quality. We strictly adhere to safety regulations and use the highest industry standards to ensure our customers get nothing but the best, certified products you can bank on.

Boost your daily regimen with superior products. For your convenience, we provide accurate, objective information on the ingredients and benefits, making choosing the right product easy.
Pesticide Free
Organic products are easily the first choice. But where can you expect organic products? Green Herbal Care is the answer. One of the key reasons behind choosing us as your go-to Dallas hemp store is that we help you prevent exposing your body to toxicity. Pesticides are toxic chemicals that can prove fatal. So, every GHC product is free from pesticides because your health is our concern.

Enjoy essential fatty acids like omega-3 and omega-6 instead of harmful elements. Get higher antioxidant content that protects your cells from free radicals and bolsters your immune system.
USA Made
At Green Herbal Care, we use only freshly sourced locally grown herbs for the best quality. We don't import any distant ingredients or supermarket items. Everything is fresh and, so, tastes better. Our specialists produce the best products assuring high nutrition value. Our products are rich in vitamins that prove beneficial for overall health.

Our approach has always been holistic. We care for you and we care for the environment. USA-grown natural hemp extracts reduce traveling time and carbon footprint. So, there's less waste and packaging.
Product Variety
Find a wide range of attractive products in our catalog, whether you order online or buy from our stores. Anything you need, we have it; tinctures, gummies, pre-rolls, vape cartridges, muscle and joint cream, and flowers. From the non-psychoactive CBD oil to the euphoric Delta-9 gummies in Dallas, we have something for everybody.

We also offer competitive prices for the quality we provide. All our products are cruelty-free, so you need not worry about animal byproducts. We do not genetically modify our products.
Our Stores
Green Herbal Care takes special care in offering you the quality you can rely on without second thoughts. We aspire to offer the benefits you seek from cannabinoids to help you develop healthy habits. Expert in-store attendees guide you through every step, providing you with objective knowledge for better product selection.

We are GMO-certified and work under the highest production standards, using high-tech facilities and advanced technology for quality control. Satisfaction is guaranteed with every purchase.
Our Stores
Experience our high-quality cannabinoid products in person at one of our physical locations
Popular Products
Shop Your Next Go-To Product and Elevate Your Experience with our Cannabinoid Offerings.