Indulge in a delightful and enjoyable cannabinoid experience with Delta 8 THC Gummies. Crafted with expertise and care, these gummies stand apart from the crowd. Made using pure ingredients and employing superior formulation methods, our Delta-8 collection surpasses expectations.
Key Features :
Precise Dosage
On-The-Go Relaxation
Lab-Tested For Quality
Discreet Consumption
Calming Effects
Regular price
Sale price
$40.00 USD
Unit price
per
Sale
Sold out
Customers who purchased this item also bought -
View full details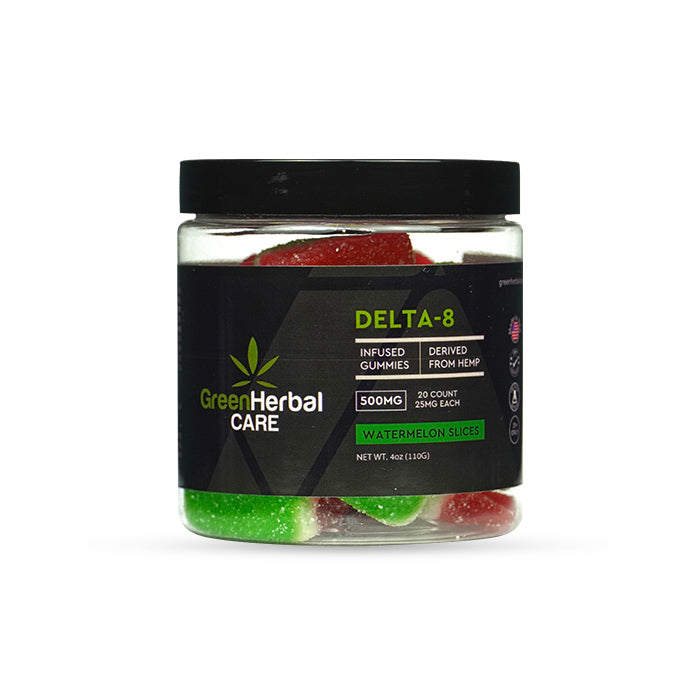 No Pesticides

Lab Tested

NON GMO

GMP Certified

FREE Shipping
Discover a delightful twist on wellness with GHC Delta 8 THC Gummies. Indulge in the unique gummy form that sets our product apart. Made with pure ingredients and expert formulation, our Delta 8 gummies offer a sisterly experience to Delta 9 THC, providing the benefits of CBD without the intense psychoactive effects. Try our mouthwatering Delta-8 Peach Rings or refreshing Watermelon Slices and elevate your natural wellbeing. Enjoy the journey!
Benefits of Delta-8 THC:
Delta-8 THC, a 'sister' compound to Delta-9 THC, offers an array of benefits for your natural well-being. Similar to CBD, Delta-8 promotes balance and harmony within your body, helping to maintain homeostasis. Unlike Delta-9 THC, it delivers a milder psychoactive profile, allowing you to experience the advantages of cannabinoids without an overwhelming high.
Exceptional Taste and Quality:
Our GHC Delta 8 THC Gummies are a testament to exceptional taste and quality. Each gummy is a delectable treat that tantalizes your taste buds and leaves you wanting more. The use of pure ingredients ensures a clean and enjoyable experience with every bite. Whether you choose the luscious Peach Rings or the juicy Watermelon Slices, you'll discover a burst of flavor that brings a smile to your face.
Relaxation and Pleasure:
Take a moment to unwind and savor the natural goodness of Delta 8 THC. These gummies are perfect for those seeking a pleasurable and relaxing experience. Whether you're looking to alleviate stress, enhance your mood, or simply enjoy a moment of tranquility, GHC Delta 8 THC Gummies offer a convenient and enjoyable way to incorporate Delta-8 into your routine.
Exploring Cannabinoids:
With GHC Delta 8 THC Gummies, you can confidently explore the world of cannabinoids. Discover the unique benefits that Delta-8 has to offer and embrace a natural approach to well-being. Our gummies are designed for your enjoyment, ensuring a delightful journey into the realm of cannabinoids. Treat yourself to the delicious flavors and therapeutic potential of Delta-8 THC today. Elevate your relaxation and experience the magic of GHC Delta 8 THC Gummies.