Indulge in intense terpenes and enjoy the best state of relaxation with 180 mg of high-quality Delta-8 THC. This pre-roll is crafted to offer you stress-free sessions. Key Facts 3g blunts loaded with premium flower and terpenes 180mg of Delta-8 Derived from full-spectrum hemp Lab Tested for purity and quality.
Key Facts
3g blunts loaded with premium flower and terpenes
180mg of Delta-8
Derived from full-spectrum hemp
Lab Tested for purity and quality
Regular price
Sale price
$20.00 USD
Unit price
per
Sale
Sold out
Customers who purchased this item also bought -
View full details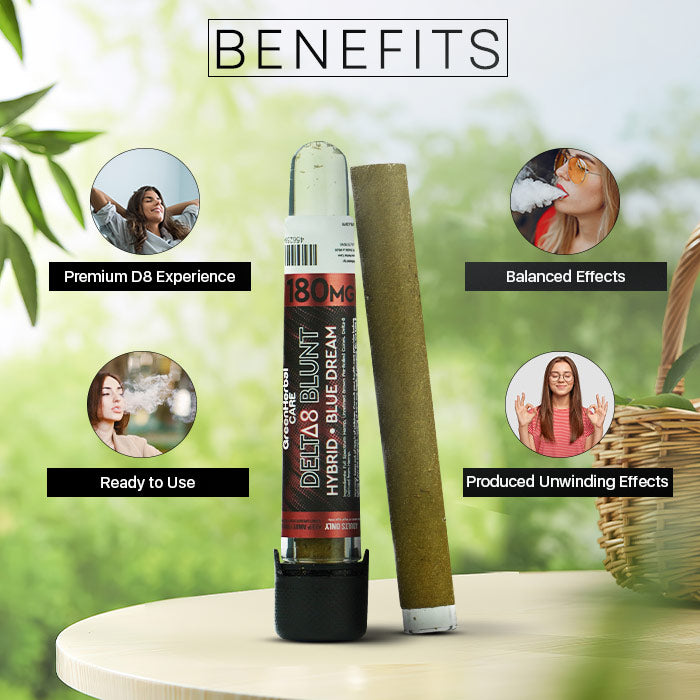 No Pesticides

Lab Tested

NON GMO

GMP Certified

FREE Shipping
Introducing the GHC Delta-8 THC Blunt: Your Path to Relaxation
Unwind with our GHC Delta-8 THC Blunt, a stress-busting delight. In the bustling pace of life, finding moments of relaxation is crucial. That's where our Delta-8 THC Blunt steps in – a crafted solution for those seeking a well-deserved break.
Experience Tranquility: The Delta-8 THC Blunt Journey
A large, intense pre-roll containing 180mg of Delta 8 THC elegantly wrapped in a 3g package. It's not just about convenience; it's about the experience. As you hold the GHC Delta-8 THC Blunt, you're holding a ticket to tranquility.
Discover the Calming Power of Delta-8 THC
Delta-8 THC, known for its calming properties, offers a balanced experience that lets you release the stress of the day. The smooth burn of the blunt and the gradual onset of the Delta-8 THC combine to create a journey of relaxation. It's like a brief escape from the chaos – a moment where you can breathe deep and let go.
Simplicity in Every Puff
Indulging in the GHC Delta-8 THC Blunt doesn't require any special preparations. No complicated devices, no intricate settings – just pure simplicity. Whether you're enjoying it alone or passing it among friends, this pre-roll makes relaxation accessible to all.
A Promise of Rejuvenation from Green Herbal Care
At Green Herbal Care, we understand that life can be demanding, and you deserve to find your oasis of calm. Our Delta-8 THC Blunt is more than just a product; it's a promise of rejuvenation. With every inhale, you're embracing the essence of Green Herbal Care – a commitment to quality and your well-being.
Embrace Serenity, One Puff at a Time
Let the worries of the day melt away with every exhale. Treat yourself to a moment of tranquility with the GHC Delta-8 THC Blunt. Because sometimes, all you need is a puff of serenity to reclaim your balance.
Disclaimer :
Please keep it out of reach of children at all times; it can be a choking hazard. If you are pregnant, nursing, or have any medical concerns, please consult your healthcare provider before taking this product. It is crucial to avoid operating heavy machinery after consumption. If you are allergic to hemp-based products, please do not consume it. Store in a cool and dry place to retain its quality. It is not ingestible. Avoid eating it. Prohibited for sale to minors.