Elevate your vaping experience with GHC CBD Broad Spectrum Disposable Vape. Each 1ml cartridge contains 550mg of broad spectrum CBD, offering approximately 100 puffs. Enjoy the pure and natural flavors with our zero-THC formula. Made in the USA, lab tested for quality. Choose from Sour Diesel, Blue Dream, or Watermelon Zkittles for focused and enjoyable vaping.
Key Features :
Convenience
Precise Dosage
Quick Relief
Discreet
Quality Assurance
Regular price
Sale price
$35.00 USD
Unit price
per
Sale
Sold out
Customers who purchased this item also bought -
View full details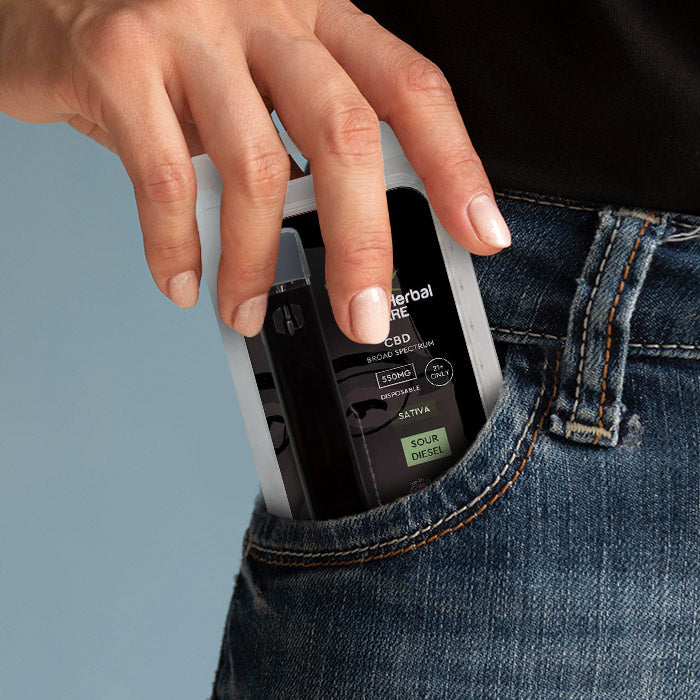 No Pesticides

Lab Tested

NON GMO

GMP Certified

FREE Shipping
Elevate Your Vaping Experience
Experience the ultimate in vaping pleasure with GHC CBD Broad Spectrum Disposable Vape. This exceptional product allows you to indulge in the delightful world of CBD while relishing the convenience of a disposable vape.
High CBD Content for Satisfying Puffs
With a generous 550mg of broad spectrum CBD infused into every 1ml cartridge, you can enjoy approximately 100 smooth and satisfying puffs.
Enjoy the Benefits of CBD Without THC
Let the soothing power of CBD take you on a journey of relaxation and tranquility. Our carefully crafted zero-THC formula ensures that you can revel in the natural goodness of CBD without any psychoactive effects.
Quality Assurance - Made in the USA
Say goodbye to tobacco and nicotine, as our vape provides a pure and suntainted experience. Manufactured with meticulous attention to quality right here in the USA, our vape undergoes rigorous lab testing to guarantee its purity and potency. You can trust that each inhale will deliver the full benefits of CBD in its most refined form.
Explore a World of Tantalizing Flavors
Immerse yourself in a world of tantalizing flavors with our enticing options: Sour Diesel, Blue Dream, and Green Crack. These distinct flavors add a delightful twist to your vaping sessions, enhancing your overall experience.
Versatile CBD Vaping for Wellness
Whether you seek relaxation, focus, or simply want to elevate your mood, there's a flavor to suit your preferences. Unwind after a long day, find relief from stress and anxiety, or simply enjoy a moment of tranquility.
Natural Terpenes and Broad Spectrum Hemp Extract
Let the natural terpene oil and broad spectrum hemp extract in our disposable vape work their magic as they envelop your senses.
Rediscover the Joy of Vaping with CBD
With GHC CBD Broad Spectrum Disposable Vape, you can rediscover the joy of vaping while embracing the wellness benefits of CBD.