Dive into the world of delight with the GHC Delta-9 THC Cookie. Crafted for connoisseurs seeking a unique experience, this cookie presents a harmonious blend of exceptional ingredients and Delta-9 THC.
Key Features :
Mindful Consumption
Euphoria with Balance
Appetite Stimulation
Mood Enhancement
Flavorful Exploration
Regular price
Sale price
$25.00 USD
Unit price
per
Sale
Sold out
Customers who purchased this item also bought -
View full details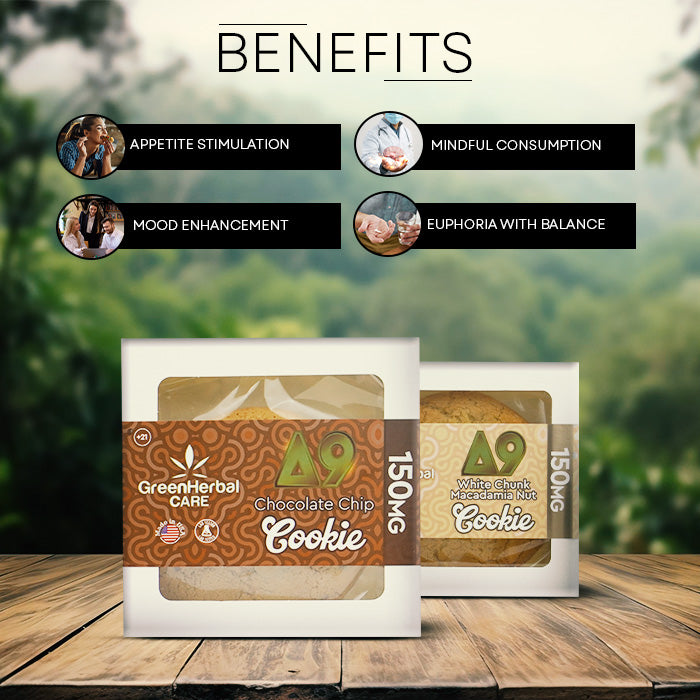 No Pesticides

Lab Tested

NON GMO

GMP Certified

FREE Shipping
Indulge in Flavorful Exploration
Each bite encapsulates a journey of flavor, texture, and the distinct touch of THC. Our carefully selected ingredients, including White Confectionery chunks, Macadamia Nuts, and more, are combined to create a symphony of taste that complements the subtle euphoria of Delta 9 THC.
Responsible Consumption Matters
Embrace this sensorial adventure responsibly. Remember, this cookie is exclusively for those aged 21 and over. Keep it out of children's reach and consult your healthcare provider before consumption, especially if you're pregnant, nursing, or have any medical concerns. And while the experience is euphoric, refrain from operating heavy machinery afterward.
An Elevated Sensory Experience
Elevate your senses with each bite, knowing that our Delta-9 THC Cookie is derived from full spectrum hemp, ensuring a nuanced and balanced encounter. Experience the symphony of flavors and the joy of a journey that only Green Herbal Care can provide.