Green Herbal Care brings you a tasty indulgence that will get you feeling all the magic of pure THC in the most appetizing way possible - the Delta-9 THC Brownie! Freshly baked and infused with potent hemp extract, experience the classic in its purest form!
Key Features :
Dosage Precision
Flavorful Experience
Euphoria and Relaxation
Discretion and Convenience
Regular price
Sale price
$30.00 USD
Unit price
per
Sale
Sold out
View full details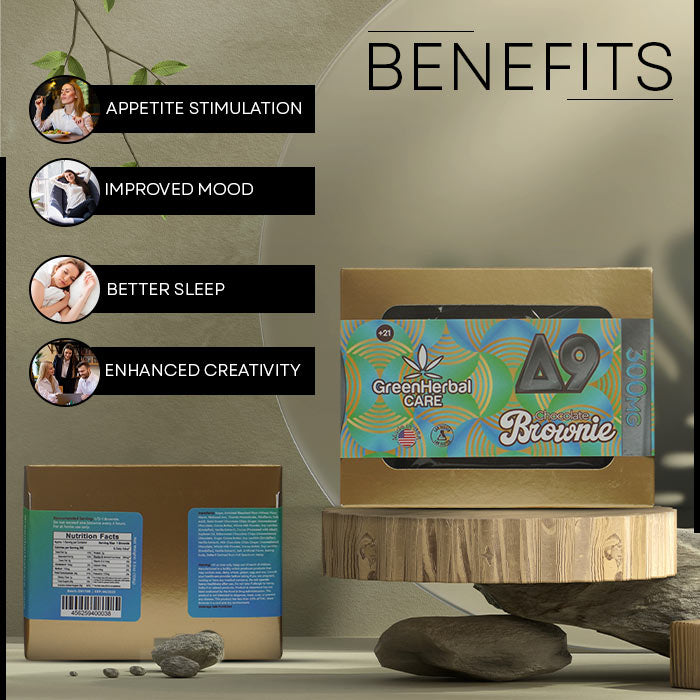 No Pesticides

Lab Tested

NON GMO

GMP Certified

FREE Shipping
Loaded with 300mg hemp-derived Delta 9 THC, this delicious and nourishing product is rich in chocolaty goodness that helps you unlock the potential benefits of unadulterated THC. Immerse in the fusion of taste and effects and elevate your senses in every bite of blissful relaxation.
Key Benefits:
Dosage Precision:
Our Delta-9 THC Brownie gives a precise and consistent dosage that lets you enjoy the effects with confidence.
Flavorful Experience:
Allows your taste buds to indulge in a decadent flavor while enjoying its euphoric effects.
Euphoria and Relaxation:
Produces a gentle sense of euphoria and relaxation as the product interacts with the body's endocannabinoid system, facilitating elevation.
Discretion and Convenience:
Enables you to enjoy discreet Delta-9 consumption without using specialized equipment.
Disclaimer:
Our Delta-9 THC Brownie is not intended to diagnose, treat, or cure any medical condition. Use responsibly and comply with local laws and regulations. It contains concentrated cannabinoids and terpenes and should not be used by minors. We do not encourage or endorse illegal or underage use of our products. Do not consume before or during the operation of vehicles or heavy machinery. Do not use if you have existing medical conditions, are pregnant, nursing, or taking medication. Keep out of reach of children and pets. Store in a cool, dry place away from direct sunlight. Individual experiences may vary, and various factors can influence the effects. Consult with a qualified healthcare professional before using our products. If you experience adverse reactions, discontinue use and seek immediate medical attention.