Revitalize your daily activities with GHC Shroom Capsules - Energy! Explore natural vitality and overcome challenges every day. Nurture wellness with the potential of nature and unlock the energy within.
Key Features :
Natural Ingredients
Vegan-Friendly
Fuels Your Get-Up-and-Go
Stimulates Power
Regular price
Sale price
$40.00 USD
Unit price
per
Sale
Sold out
View full details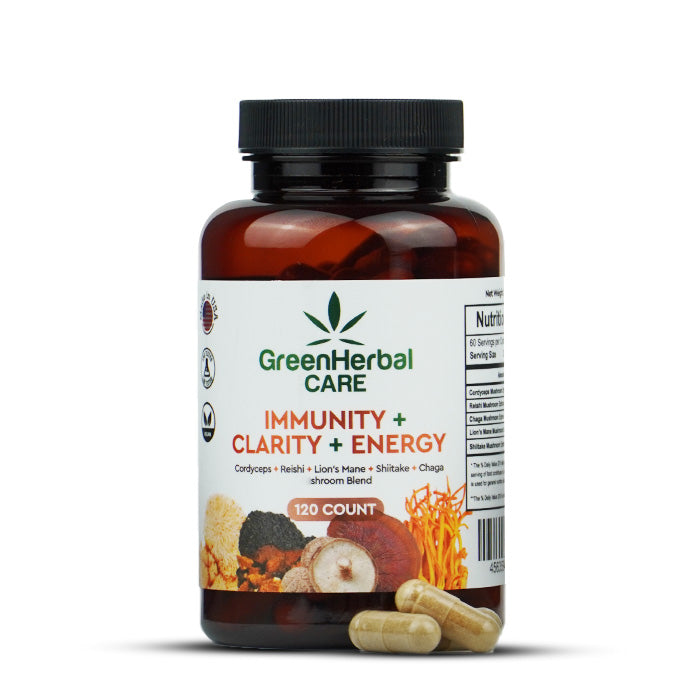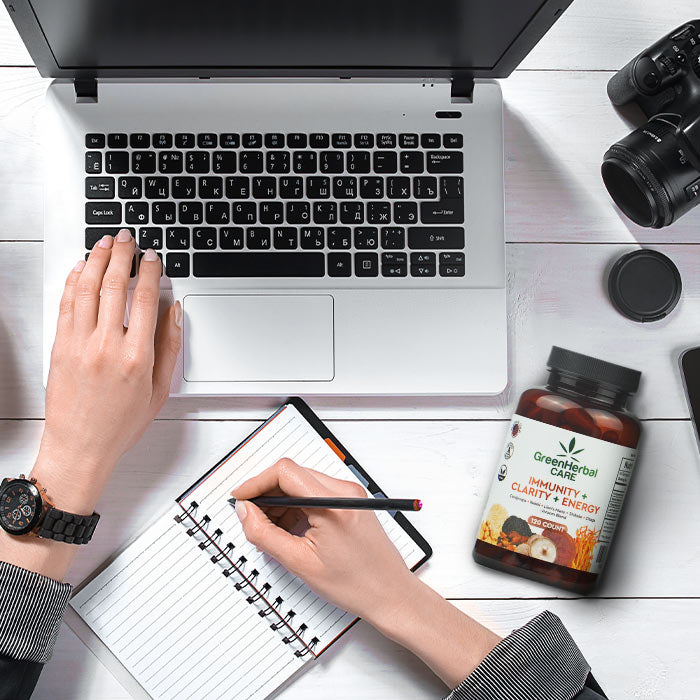 No Pesticides

Lab Tested

NON GMO

GMP Certified

FREE Shipping
Are you looking for a natural way to improve your vitality? You have found it. The GHC Shroom Capsules combine the goodness of the best shroom extracts to offer what you need.
Add a Breeze of Wellness in Your Routine:
Take it easy with your wellness journey with our shroom capsules. Take two capsules daily with a fresh 8oz glass of water 20-30 minutes before a meal to enhance your everyday vitality. Enjoy various benefits.
Stay sharp and ready with a boosted state of mind

The king of shrooms helps support your defenses to tackle everyday tasks

Turbocharge your engine to feel alive and never panting

The superfood in the shroom family adds armor to your cells

Handpicked shrooms add flavor and support holistic wellness
Disclaimer:
Do not exceed the suggested serving. Pregnant or nursing mothers, children under the age of 18, and individuals with a known medical condition should consult a physician before using this product. Do not take if allergic to shrooms or related products.
Keep out of reach of children.
Ingredients
Lions Mane

It may help you stay sharp and in the zone.

Reishi

The King of Shrooms potentially supplements a happy gut system.

Cordyceps

Cordyceps extract may promote balance to ensure comfortable meals.
FAQ
They contain adaptogenic properties that may help regulate energy by reducing stress, supporting adrenal function, and boosting oxygen utilization.
No, they are caffeine-free. They provide potential boosts without crashes or jitters, unlike caffeine.
The duration for noticing improvement may vary from one person to another. Some may feel the difference within a few days, while others may take weeks. Consistent consumption is recommended.
Shroom capsules contain nature's formula that may boost physical and mental energy. User reports suggest noticeable improvement in cognitive abilities, enabling them to focus on tasks requiring productivity and mental acuity.
These capsules are typically well-tolerated. However, we recommend following the recommended dosage on the product label. Additionally, some people may experience slight digestive discomfort, which can be adjusted with dosage changes. Consult a healthcare professional before implementing shroom capsules for safety.