Add notes of harmony to your gut system with our Shroom Capsules for digestion! Welcome natural wellness to your daily regimen and bolster your guts for effortless days.
Key Features :
Natural and Vegan
Supports Gut Wellness
Balanced State of Mind
Simple and Effective
Regular price
Sale price
$40.00 USD
Unit price
per
Sale
Sold out
View full details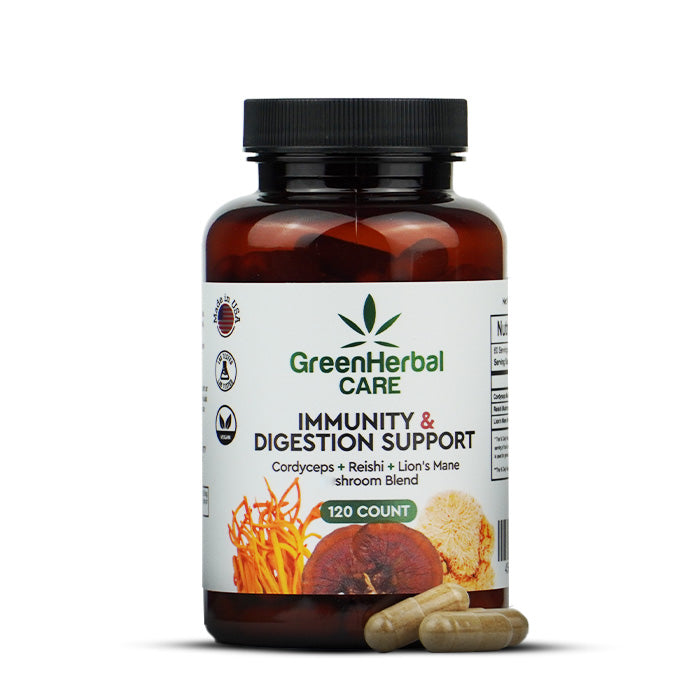 No Pesticides

Lab Tested

NON GMO

GMP Certified

FREE Shipping
Anybody looking for a natural way to support their tummy will find relief in the GHC Shroom Capsules - Digestion. A healthy blend of the best shrooms creates a holistic approach toward a harmonious gut system.
Seamless Integration to Your Daily Regimen:
GHC Shroom Capsules for Digestion simplify your tummy routine. Add two capsules to your everyday habit with a refreshing 8oz. glass of water 20-30 minutes before a meal. They are vegan and designed for every lifestyle.
It adds to your daily function, helping you keep your gut and mind clear

The king of shrooms supplements a happy gut system, which is responsible for your overall wellness

Shroom extract helps promote gut balance to ensure comfortable meals
Disclaimer:
Do not exceed the suggested serving. Pregnant or nursing mothers, children under the age of 18, and individuals with a known medical condition should consult a physician before using this product. Do not take if allergic to shrooms or related products.
Keep out of reach of children.
Ingredients
Lions Mane

It may support cognitive function, keeping digestion and cognition clarity interconnected.

Reishi

The King of shrooms potentially supplements a happy gut system.

Cordyceps

Cordyceps extract may promote balance to ensure comfortable meals.
FAQ
These capsules may support digestion because they contain natural compounds that help manage gut health better. Shrooms have been shown to balance gut bacteria and lessen inflammation in the gut system, resulting in overall digestive wellness.
Many people consume shrooms regularly, and it is a natural fungus considered safe for daily use. However, we recommend following the recommended dosage instructions on the product label. Additionally, those taking medications or with specific health concerns should consult their doctor before adding them to their daily regimen.
Various shroom species, like Reishi and Shiitake, are known for potential immune system and digestive benefits. Reishi is the King of shrooms and has proven promising as a digestive supplement.
The duration of noticing improvements may vary from one person to another. Some notice changes within weeks, while others take longer. Consistency may be the key.
Shroom capsules are usually well-tolerated. However, some may experience mild side effects like allergic reactions or an upset tummy. So, always consult with a healthcare professional before taking any.