Experience potential relief with our GHC Muscle and Joint Cream. Made from organic, industrial plant extract, this cream contains menthol and natural oil to soothe and provide results. It's perfect for stiffness, soreness, and other common mobility issues. Treat problem areas directly with our topical application for targeted relief.
Available in 1oz or 4oz sizes and concentrations of 100mg, 250mg, or 500mg per container. Apply and feel the soothing effects today!
Key Features :
Natural Soothing
Targeted Application
Concentration Options
Carefully Selected Ingredients
Natural and Additive-Free
Regular price
Sale price
$40.00 USD
Unit price
per
Sale
Sold out
View full details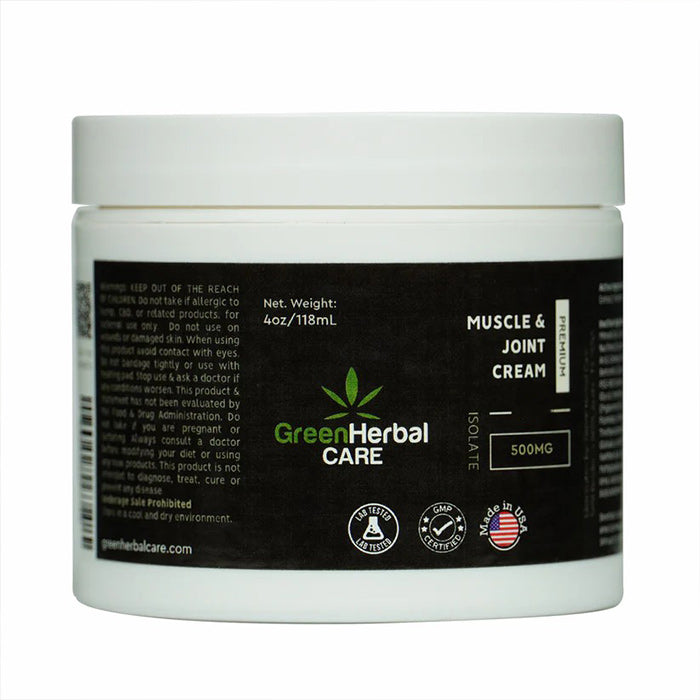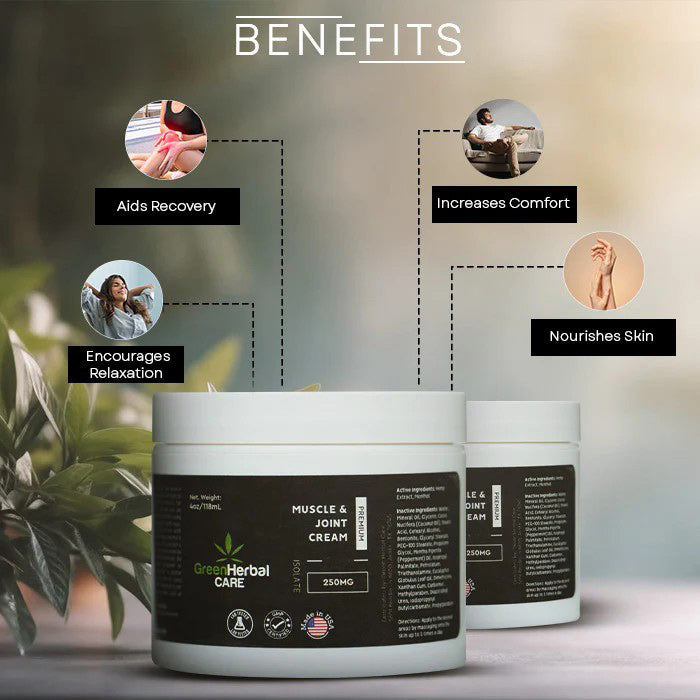 No Pesticides

Lab Tested

NON GMO

GMP Certified

FREE Shipping
Experience Ultimate Comfort
Our GHC Muscle and Joint Cream is a popular choice for those seeking a sense of comfort. Crafted from organic plants, this cream combines menthol and natural plant oil for a pleasing result.
Targeted Comfort for Your Aches
Specially formulated for topical use, our cream allows you to directly apply to areas of discomfort. Simply apply it on muscles and joints and enjoy the soothing effects of all-natural herbal oil. The carefully selected ingredients, derived from high-quality sources, work together to provide a comforting and enjoyable experience.
Choose Your Perfect Fit
We understand the importance of options, so our cream comes in two convenient sizes: 1oz and 4oz. Choose the size that suits your needs and enjoy. Additionally, we offer various concentrations per container, including 100mg, 250mg, and 500mg, allowing you to tailor your experience to your preferences.
Quality Ingredients for Your Comfort
In terms of ingredients, our cream boasts a thoughtful blend. The active ingredients include plant extract and menthol, while the inactive ingredients contain water, mineral oil, glycerin, coconut oil, and more. We prioritize quality and safety, ensuring our formula is free from harmful additives or artificial substances.
Embrace Natural Comfort
Indulge in the goodness of nature and explore the soothing effects of our GHC Muscle and Joint Cream. Treat yourself to the comfort you deserve. Order now and experience the difference!
Active Ingredients
Hemp Extract

Hemp extracts contain natural compounds with potential wellness benefits.

Menthol

An essential cooling agent that delivers soothing relief from irritation and discomfort.
FAQ
GHC Muscle and Joint Cream has shown promising results in interacting with the endocannabinoid system (ECS). It may help lessen sensations of inflammation and discomfort upon topical application, allowing you to relax.
Yes, you may put the cream on affected body parts experiencing discomfort. However, you should follow the product's recommendations for the best results.
No, GHC Muscle and Joint Cream made is for topical application and not designed to be eaten. Also, CBD is free from THC. So, it should not be psychoactive in any manner.
In several regions where GHC Muscle and Joint Cream comes from hemp plants containing no more than 0.3% THC, it is federally legal without a prescription. We recommend you to be up-to-date with your state's laws.
Full spectrum includes different similar cannabinoids and traces of THC to produce synergistic effects. isolate cream only contains pure and no other cannabinoid or THC.